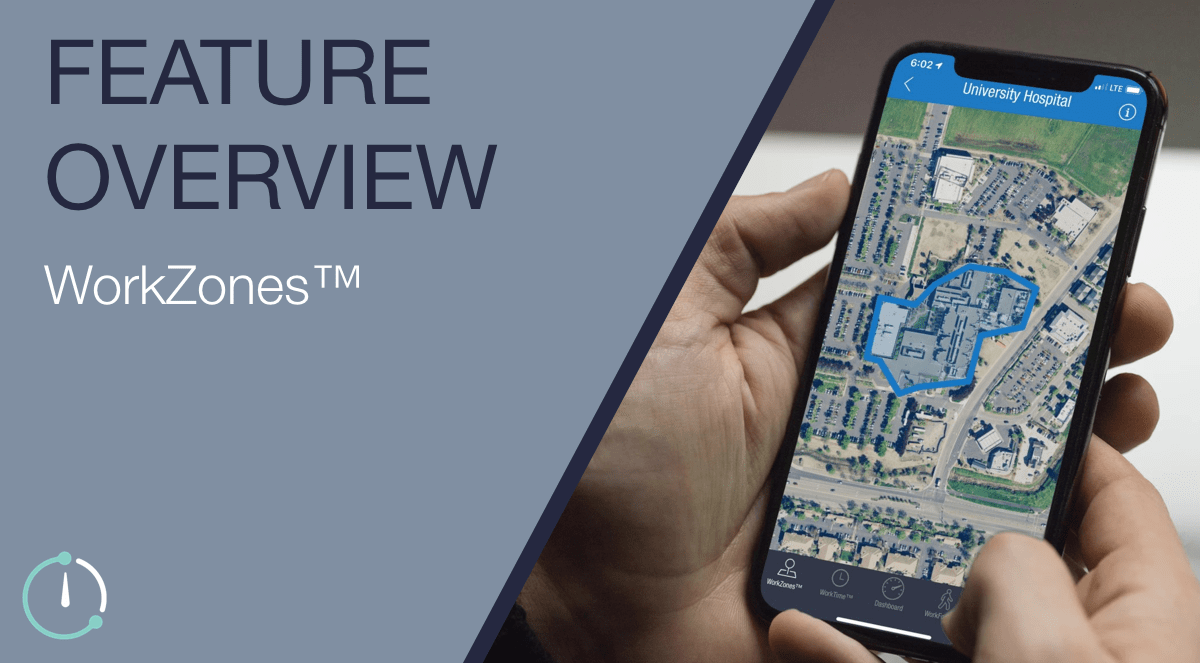 WorkZones™ Are Virtual Boundaries
Adoption of location technology throughout the United States continues to increase each year. When location information is used properly, and privacy is preserved, it adds incredible value to a user's experience. 
The ResQ app optimizes location technology while preserving privacy through the use of its proprietary algorithm and WorkZones™. WorkZones™ are virtual boundaries that can be created around any location, in any shape. A polygon shaped WorkZone allows the app to record entry and exit to a location with precision accuracy. As indicated below, the benefit of creating a polygon WorkZone™ in any shape (blue) instead of a circular boundary (yellow) yields greater accuracy while detecting entry and exit.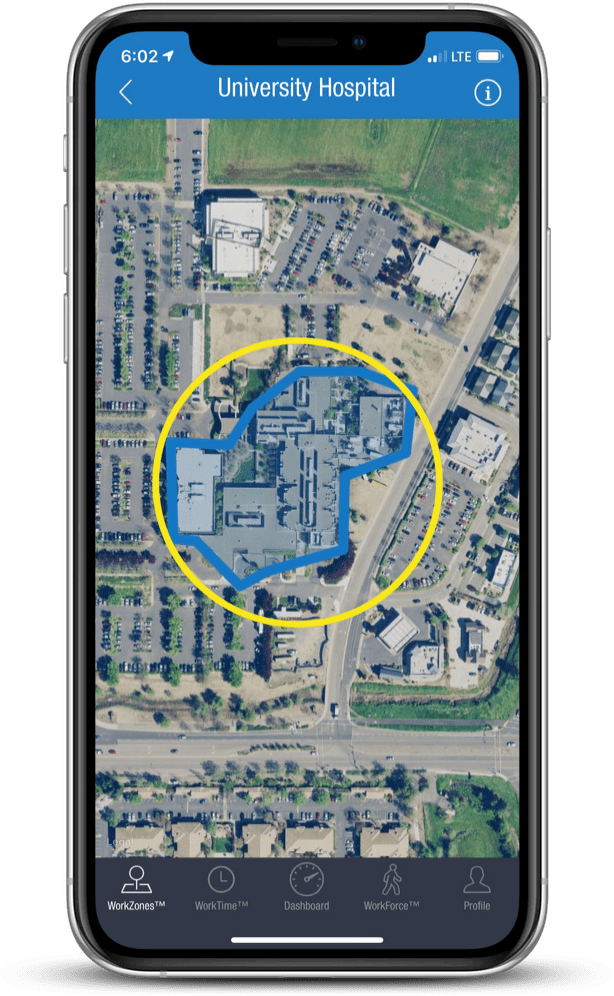 WorkZones™ allow the ResQ app to automatically sense a resident's entry into a predetermined boundary and to start recording time that is accurate within seconds. Upon exiting the boundary, recorded time automatically stops. There is no limit to the number of WorkZones that can be created, and the WorkZones can be created anywhere in the world.
Here's how it works. GME administrators provide ResQ with the names and locations where residents train, our team then creates those WorkZones. Location points are plotted on a map which become the virtual boundary. Once the virtual boundary is saved to the ResQ server, the WorkZone is created and linked to the app. Every WorkZone, along with the boundary, is listed within the app providing complete transparency to residents.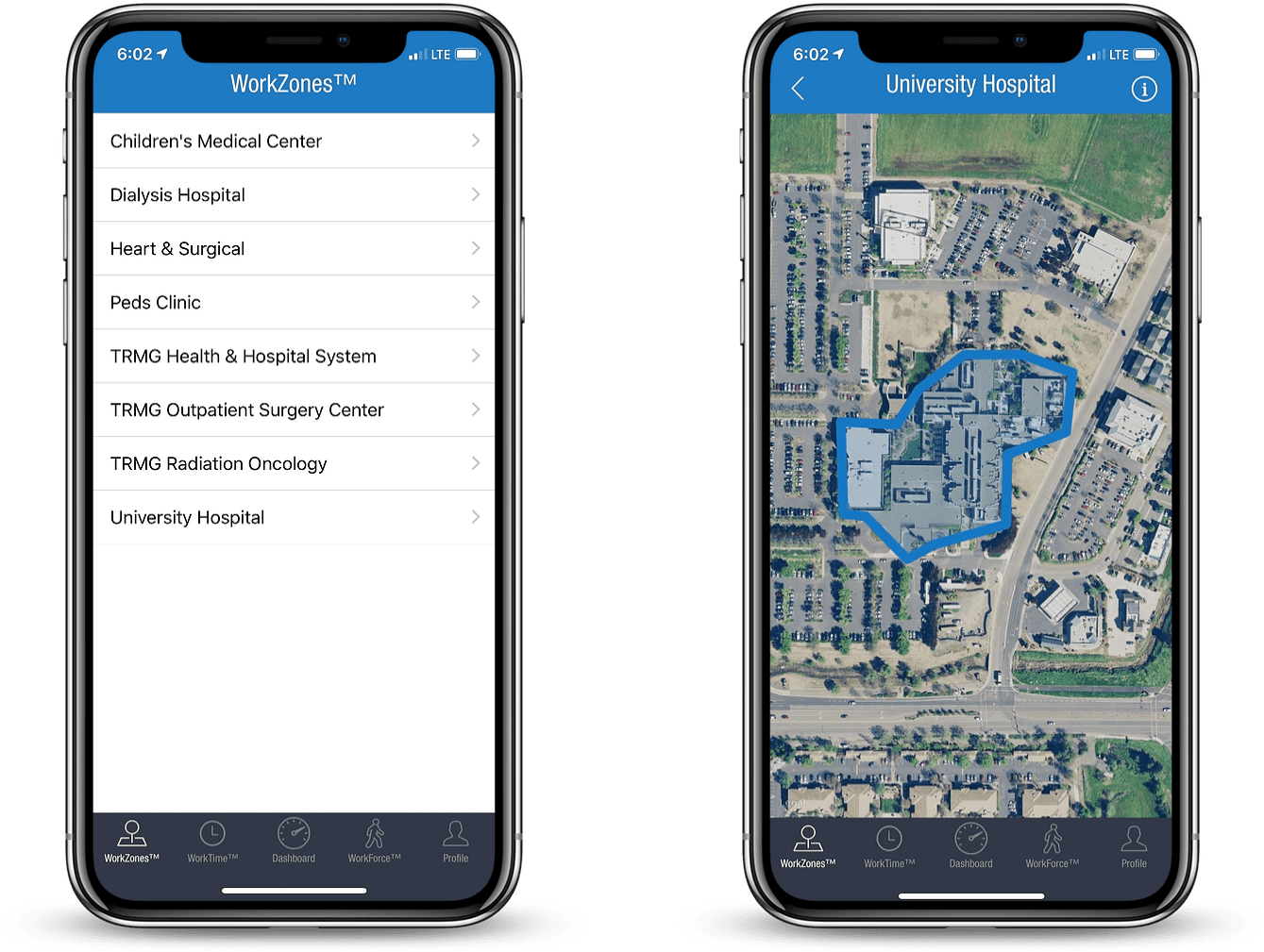 The app automatically senses a residents arrival within a WorkZone™ and begins recording.  After a resident finishes their shift and leaves a WorkZone™, the recorded hours automatically transfer to MedHub. Once the hours are in MedHub, residents can review, edit, and submit…without having to recall those hours. The whole process happens without any manual effort and constantly maintains resident privacy. 
Recording Work Hours based on WorkZones™ offers a whole new layer of information that has never been available before. The ResQ Analytics platform delivers valuable information based on WorkZones™ and allows an enhanced level of administrative understanding of where residents spend their time.  Some examples are:
Most frequented WorkZone™ by PGY
Total time recorded by WorkZone™
# of Shifts recorded by WorkZone™
Average Shift Length by WorkZone™
What Residents Are Saying
Residents now spend just 2 minutes every 2 weeks documenting work hours. Submission rates immediately increase because the hours automatically appear in MedHub. With ResQ, the time spent reminding residents to document and submit their hours is non-existent, and the compliance checklist in MedHub is always viewable in real-time.
"I love using this application. It takes 95% of the work of logging duty hours off of me. It makes it incredibly easy to log in at the end of the week, make a few adjustments or corrections, and then submit!"
"I really like the app…the hour recognition is spot on and I don't have to change anything. Just hit submit at the end of the week."
"I really loved using the app. It made logging hours so convenient on Saturday."
"I have been using the ResQ app almost all year and love it. I think many more of my colleagues would be using it too had they known about it and the benefits."
"The ResQ app significantly simplifies my administrative burden. Without the app, I would have for sure forgotten to log most of my work hours."
"I have been using the ResQ app since the beginning and I think it's an extremely useful app. We are mandated to keep track of our duty hours and that often gets hard when you're busy working/too tired to remember. It makes my life a little easier especially because it tracks your time at ALL of the main sites we work at as residents.
"Extremely convenient and doesn't seem to impact battery life. Highly recommend the app and everyone should use it in my opinion."
"I personally am a huge fan of the app. It makes logging hours a one-click task, and I like not having to think about it. I really appreciate having the app."
The ResQ app revolutionizes the way work hours are documented. And the integration with MedHub makes it a solution unique to the industry. Learn more about the app and the MedHub Integration at www.ResQmedical.com/medhub. 
To get started, register now or reach out to your MedHub CSM for more information.