IMPROVING RESIDENT LIVES THROUGH INNOVATION
ResQ is the smarter way to record and document work hours. Now, hospitals and clinics can sense a physicians arrival.  ResQ is a patent-pending platform that automates the work hours process. No computer log-in, punch card, or action is required. Simply enter any predefined location with an iPhone and duty hours record automatically.
The automation ResQ provides allows for a measurable increase in efficiency and compliance, and permits residents and administrators to spend less time on the administrative task of documenting work hours and more time learning and practicing medicine.
ResQ has the ability to integrate with existing Residency Management Systems to automatically sync hours. If you are an existing Residency Management System user, learn how your institution can completely eliminate the need to manually enter work hours. 
"Without question, ResQ simplified as both a resident and fellow by alleviating my inbox of numerous email "reminders" to log my duty hours from program directors.  As a busy orthopedic surgery trainee, "logging my hours" was never on my mind, and rarely even an after thought.  Hours were logged after numerous "nasty-grams" from my program directors for the sole purpose of avoiding ACGME red flags and site checks, further infuriating me and reducing my motivation.  ResQ changed all that by automatically logging my arrival and departure from work, accurately, and without phone battery drain.  My specific location was always kept private and never viewed by others.  Ultimately, logging hours was no longer a responsibility of mine.  Thus, ResQ made my life simpler and better.  I would recommend it to anyone."
Orrin Franko, MD
"ResQ is revolutionizing the way that resident work hours are tracked and understood. Previously, work hours were dependent on resident reporting. This led to inaccuracy due to errors in memory and, often, culture pressure from programs to report lower-than-actual hours. With ResQ, hours can be objectively tracked, increasing accuracy and decreasing the angst that can be associated with reporting work hour violations."
Timothy Schmidt, MD, PhD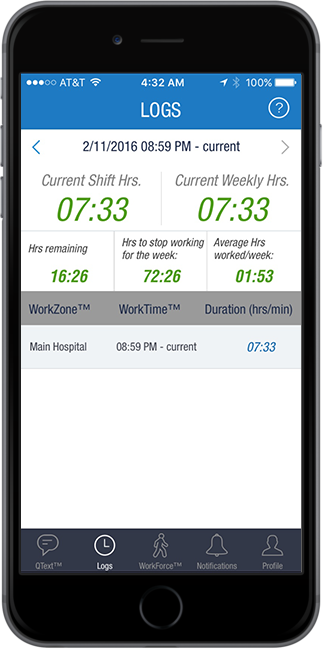 WorkTime™  is a revolutionary feature that streamlines work hour logging automatically using an iPhone. WorkTime™ automatically records resident work hours with unprecedented accuracy based on ACGME guidelines. Residents are always in controls and can use Away Mode to disable the automated recording if they enter a WorkZone for non work related reasons. Click the phone to learn more.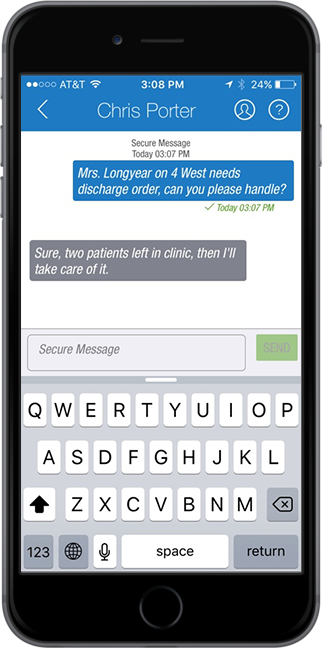 Qtext is an integrated secure messaging platform designed specifically to facilitate efficient communication between residents and attendings. Users can message individually for immediate consults or between "Service Teams" during team rounds. Confirm acceptance of messages with Read Receipts. Click the phone to learn more.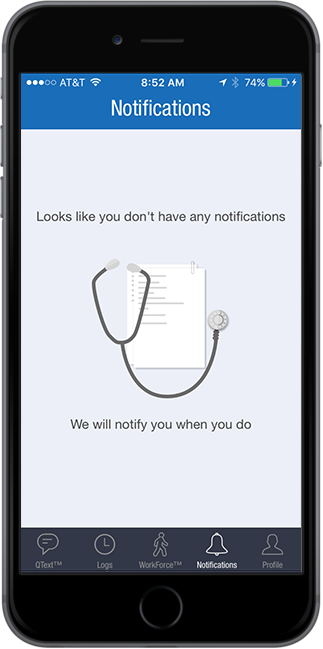 When work hour overage is a must, Residents can request and report them easily with our rule-hour exception request form. Learn more by clicking the phone.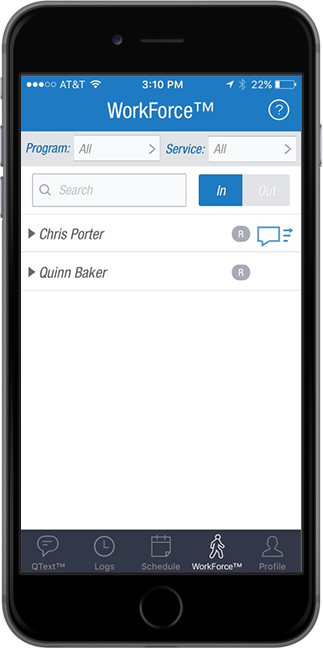 ResQ simplifies hospital providers' lives with WorkForce™. You'll always know who is Inside or Outside of a WorkZone™ just by looking at your phone. Send secure messages to any user using Qtext™Messages. Click the phone to learn more.
Streamlining Productivity & Communication
ResQ Medical simplifies compliance and communication and enables health care teams to focus on the practice of medicine while improving patient care outcomes.
Use ResQ to automate logging of resident work hours and enhance team productivity and communication.
See More For Yourself. Watch This Video.
READ THE LATEST RESQ NEWS
Our latest enhancement now allows hours to appear more continuous once they sync to the MedHub Duty Hours portal.  Prior to this update, Logs were automatically shipped to MedHub immediately once a user exited a WorkZone. Based on feedback from our Pilot users, these...
OUR MISSION:
To create intuitive Medical Logistics Tools that streamline administrative requirements, staffing needs and enable health care teams to focus on the practice of medicine while improving patient care outcomes. Learn More About Us Here.